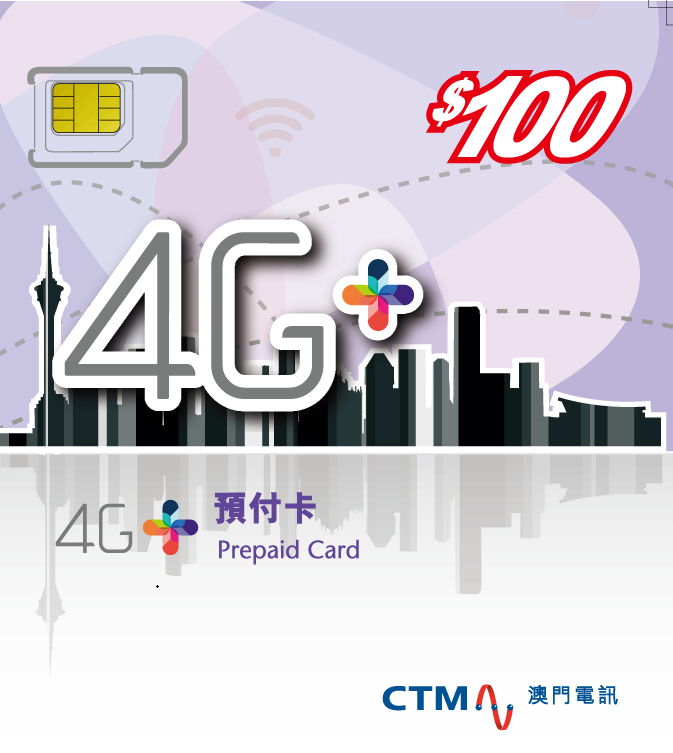 Suitable for customers who use local voice and IDD service. Various data plans to suit your needs!
- Customer can enjoy an extra $20 rental rebate upon $100 prepaid card activation.
- When your Local Data entitlement has been consumed, Data Service will be barred automatically.
- Supports IDD & Roaming Service features.
- Free Caller's Line Identification Service.
- 180 days of usage period.
Residual Balance Enquiry:
Simply dial *122# to check the expiry date, residual balance and bonus items.
Various Data Plans
Basic Charge
| | |
| --- | --- |
| | Tariff (MOP) |
| Voice Calls | $0.4/min |
| Local Video Calls | $0.4/min |
| Incoming SMS | Free |
| Send SMS from Macau to Local Phone No. | $0.25/SMS |
| Send SMS from Macau to Overseas Phone No. | $1/SMS |
| Incoming MMS | Free |
| Send MMS from Macau to Local Phone No. | $0.4/MMS |
| Send MMS from Macau to Overseas Phone No. | $3/MMS |
IDD 050 Special Offer

Countries/Destinations

Offer Price (MOP) / per minute

Indonesia

$0.90

Vietnam

$0.90

Philippines

$1.28

Thailand

$0.68

Nepal

$1.98

Mainland China

$0.70

Hong Kong

$0.70
Note: IDD calls are charged per minute. The above rate is only applicable to IDD made with the prefix "050". IDD050 Service is available through Mondays to Fridays from 18:00 to 09:00 and 24 hours during Saturdays & Sundays. Customers of the above promotion are bounded by the respective service regulations. For more details, please approach our sales representative.
Prepaid Card Validity:
- Customers need to activate the prepaid card before the date stated on the back of the Prepaid Card, and in no circumstances shall CTM be held liable for any loss, expense or damage that customers may suffer.
- Validity of the prepaid card is 180 days from the date of card activation. When customers reload their prepaid card before the expiration date, the validity of the prepaid card will be extended for 180 days and the residual balance and the SIM number will be retained.
Notes
- Base on the regulations, starting from 01/11/2021, each individual customer can register up to 10 pcs. prepaid cards, and each customer (excluding public entities) can register up to 25 pcs. prepaid cards. If the number of registrations exceed, registration will be barred.

- Upon successful registration of "Social Unlimited Data Plans", the service charge is deducted instantly. The usage expiry date is 30 days, service charges will be deducted automatically from the residual balance every 30 days.
- The local data usage of "Once-off data Plans" is valid until the prepaid card expires.
- The "Online Everywhere in Macau" plan will expire after 3 days (72 hours) or 7 days (168 hours), and will not extend automatically. For service extension, please re-apply for the plan, the charge is deducted instantly and is limited to one application only during the same period. Once the accumulated local data usage of a customer exceeds 1GB (3 days – 72 hours) / 2GB (7days – 168 hours), the data transmission speed (upload and download) will automatically be adjusted to not less than 256kbps.
- The above Local Data Plans are only applicable to activated Prepaid Cards.
- The above Services are only applicable in Macau.
- VoLTE & ViLTE services are only applicable on specific supported handsets. (VoLTE supported handsets)
- The balance and the remaining usage in the Prepaid Card will not be returned after the Prepaid Card expired.
- Customer need to purchase a new Prepaid Card if they wish to change the card type, and the residual balance and free usage of the previous Prepaid Card will not be transferred or credited to the new Prepaid Card.
- Before changing your Package Plan, the existing Package Plan needs to be terminated. Should customers change their Package Plan, the remaining free Usage of the previous Plan and Service Charges cannot be transferred or credited to the new Package Plan.
- As stipulated by the Macau Government, customers must present their original ID Card or valid Passport for registration upon purchasing the CTM Prepaid Card (all customers must be 18 years or above).
- Customers can reload the card with a maximum value of $50,000.
- An SMS alert will be sent to customers when the residual balance of the CTM Prepaid Card is less than $30 or 1 day before the balance expiry date.
- The mobile number is randomly generated by the system and cannot be changed by customers. CTM Prepaid Cards do not support collect call service.
- Lost or stolen cards must be reported immediately to CTM No. 1 Hotline 1000 for immediate cancellation.
- If the CTM Prepaid Card is lost or damage, expires or becomes invalid for any reason, the card will not be replaced, the residual balance will not be refunded or transferred and the mobile number will not be retained by customer.
- Customers are responsible and liable for the correct and lawful use of their CTM Prepaid Card, and the customer shall be solely responsible for any liability arising therefrom.
- For more details about CTM Prepaid Card services, please refer to the "Prepaid Card Important Notes"
- The service is based on CTM "Acceptable Use Policy (AUP) " and the "Provision of Mobile Service"
- All prices are in MOP.