In order to facilitate and encourage local talents to participate in the development of "Digital Macau", CTM launches the "5G‧Smart Solutions Competition" that motivates local talents to develop smart solutions riding on 5G technology that creates more relevancies with local residents' work, livelihood and entertainment patterns. Since the competition was opened for registration in September, positive responses were received from the public and more than 100 applicants have been registered, covering areas of smart tourism, smart transportation, 5G intelligent real estate, smart airport and craft management, 5G e-sports, intelligent elderly care and etc., which fully demonstrates the passion, creativeness and capabilities of local residents in the construction of 5G ecosystem and development of digital Macau.
After a rigorous screening by CTM, 5 solutions from "Implementation Group" and 10 solutions from "Concept Group" were shortlisted. The organizer will provide workshop to the shortlisted participants, which covered 5G technology, application case sharing and etc., as well as to provide dedicated 5G experiment venue, 5G testing services, 5G equipment and other technical support and consulting guidance. According to the rules of the competition, the preliminary display of the shortlisted solutions will be held in December.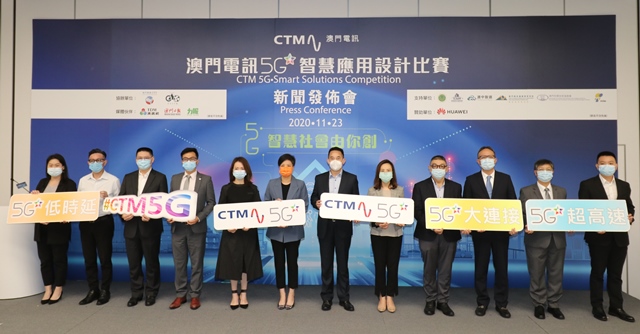 Today (23 Nov), CTM held a "CTM 5G‧Smart Solutions Competition" press conference at the Macao Young Entrepreneur Incubation Centre to reveal the shortlisted solutions of both "Concept Group" and "Implementation Group". CTM representatives included Declan Leong, Vice President of Network Services, Ebel Cham, Vice President of Commercial, and Eliza Chan, Director of Corporate Communications.
Ms. Ebel Cham, Vice President of Commercial, CTM said that, being the telecom operator which rooted in Macau for nearly 40 years. CTM has been introducing innovative information and communications technologies into Macau through consistently investment, and has been growing together with Macau. Following the achievement of the 5G full outdoor coverage in June this year, Macau has paved way to enter into the 5G new era. In order to accelerate the construction and development of "Digital Macau 2.0", CTM launches the Competition to gather the collective wisdom and innovative ideas from society, stimulating the development of smart applications that cater the needs of community, also to encourage and facilitate residents' participation in the smart city development, and accelerate the intelligent transformation of various sectors.
The "CTM 5G‧Smart Solutions Competition" is categorized into "Concept Group" and "Implementation Group". The solutions should be able to cater into local commercial, social, or livelihood scenarios riding on 5G technology, facilitate its features of high connection speed, ultra-low latency, and massive connectivity, as well as to unleash the potential, enhance business efficiencies or to solve the existing social dilemma. Smart solutions could be oriented towards e-finance, e-medical, e-elderly care, e-education, e-tourism, etc.
All shortlisted solutions of "Concept Group" and "Implementation Group" should submit the final prototype and concept proposal by 22nd Jan, 2021. Candidates are required to present the solutions to the judging panel, which formed by the organizer, professional judges and guests judges, on the Assessment and Awards Ceremony to be held in February 2021. Outstanding solutions of the "Implementation Group" will be awarded a cash prize of up to MOP80,000 and a trophy, while cash prize up to MOP10.000 and a trophy will bestow to the winner of "Concept Group".
Shortlisted solutions of "Concept Group" are "Traffic Management", "Smart 5G Delivery Robot", "5G Smart Campus", "Smart Real Estate", "5G Guide Dogs", "Light Up New Life", "Municipal Waste Management System", "3D Virtual Space Interactions", "AR Navigation and Private Car Parking Data System" and "Smart Drone Logistics". Shortlisted solutions of "Implementation Group" are "3D Virtual Convention SAAS", "Aircraft Inspection Robot", "Home Elderly Service Robot", "5G Smart Building" and "5G Adaptive Intelligent Inspection System".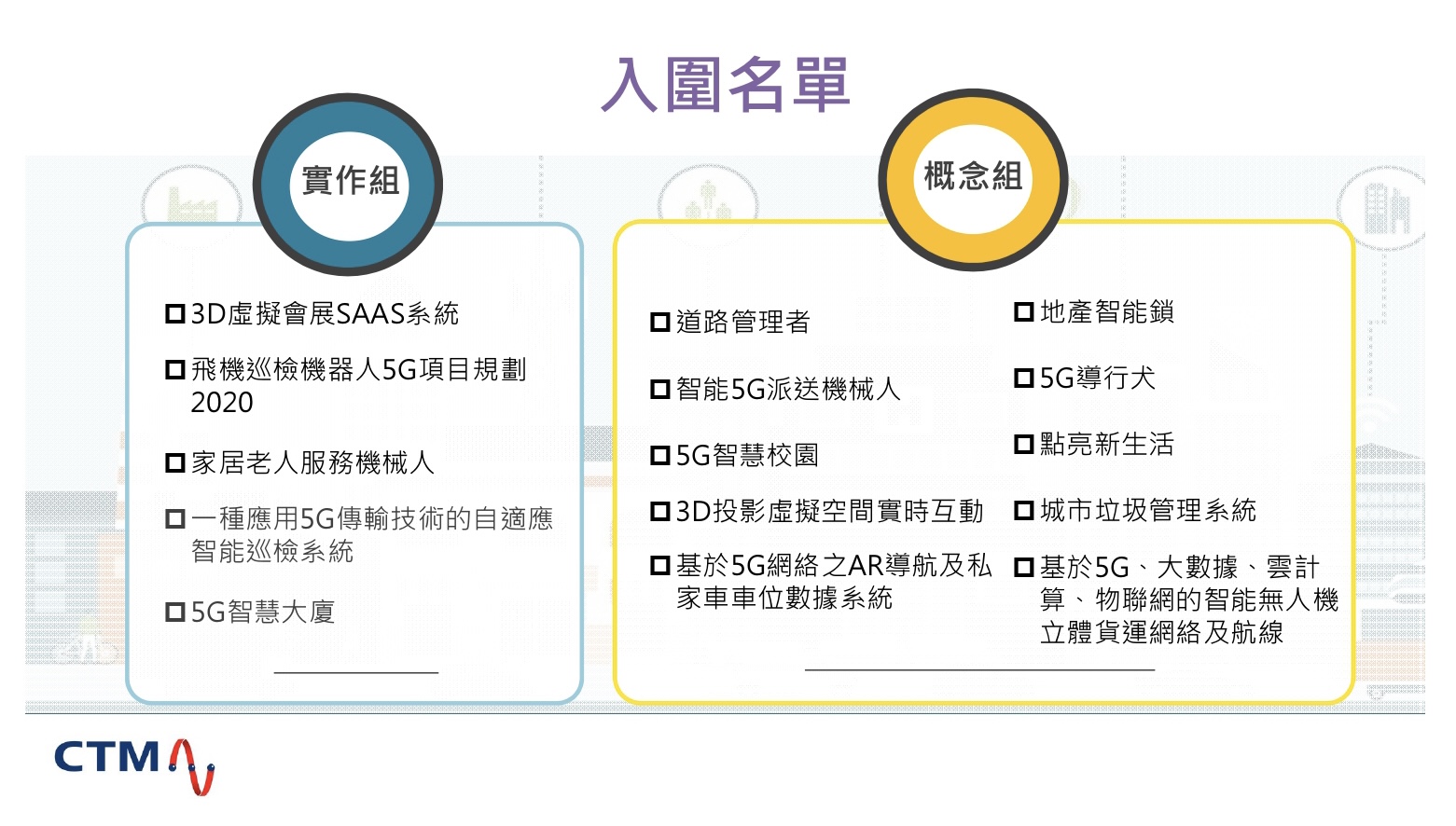 For more information of the competition, please visit 5gcompetition.ctm.net.