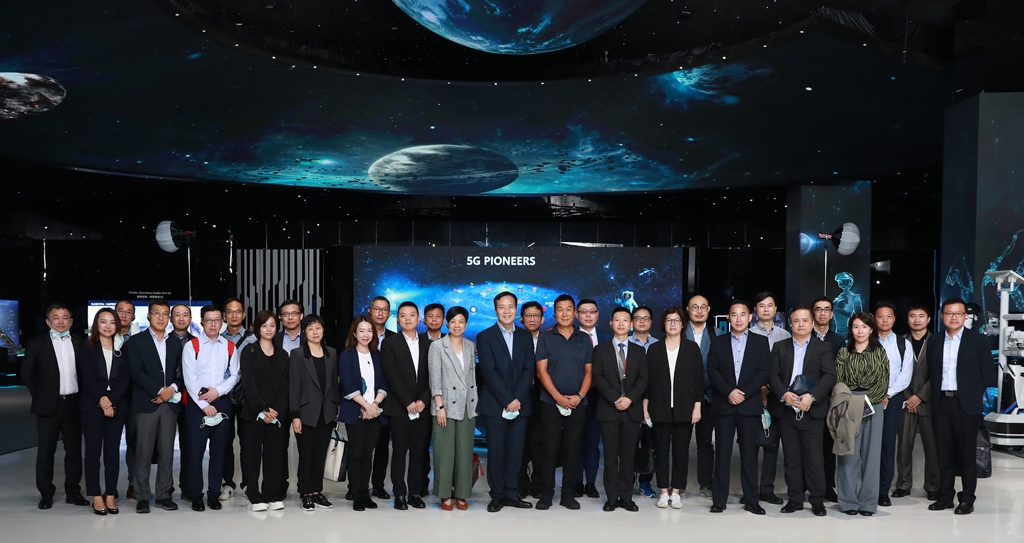 After achieved the 5G full outdoor coverage within Macau in June this year, CTM invited representatives from various industries to join the CTM 5G Collaboration Partnership, aiming to introduce more 5G applications into Macau that could cater Macau's development. Meantime, CTM actively maintains close collaboration with the world leading 5G technology company - Huawei Company, envisage to introducing more innovative smart solutions in order to keep promoting the development of "Digital Macau".
Led by Vandy Poon, the management team and 24 staff members from various departments including IT, Network Services, Commercial, Sales, Strategic Programs and Performance Management visited Shenzhen Huawei Company Park to participate in the "Huawei Summit 2020". The delegation visited the latest 5G applications and solutions of Huawei, including 5G minimalist network construction, 5G ecosystem, 5G smart life and 5G+industries. Huawei Company representatives included Mr. Ding Yun, Executive Director, President of the Carrier BG, Mr. Walter Wang, President of Huawei Wireless & Cloud Core Network Marketing and Solutions Sales, Ms. Huang Xiaolin, Division Head of Cell Site Productions, Huawei Shanghai Institute, Mr. Deng Shuigen, General Manager of Huawei Hong Kong Company etc.
During the visit, Huawei representatives introduced the latest development of 5G technology, and had a thorough discussion on the 5G business and applications that cater Macau's society, such as 5G private network, smart health management, smart transportation solutions, and digital transformation solutions for enterprises. Also ICT products and solutions, including digital governance, smart transportation, smart finance, smart electricity and smart airport related application scenarios and solutions.
Vandy said that the objective of this visitation is enabling the team to learn the latest development of 5G technology and solutions, further broaden the horizon of the team, as to promote the development of "Digital Macau" with latest technology and vision. Vandy said that, CTM and Huawei Company maintain close and long term collaborations, both parties joined hands in infrastructure, internet and mobile equipment, as well as different applications and solutions, he believed that the collaborations between the two parties could be further deepen in the future, as to cope with the Macau Government to build Macau as the regional leading smart city.