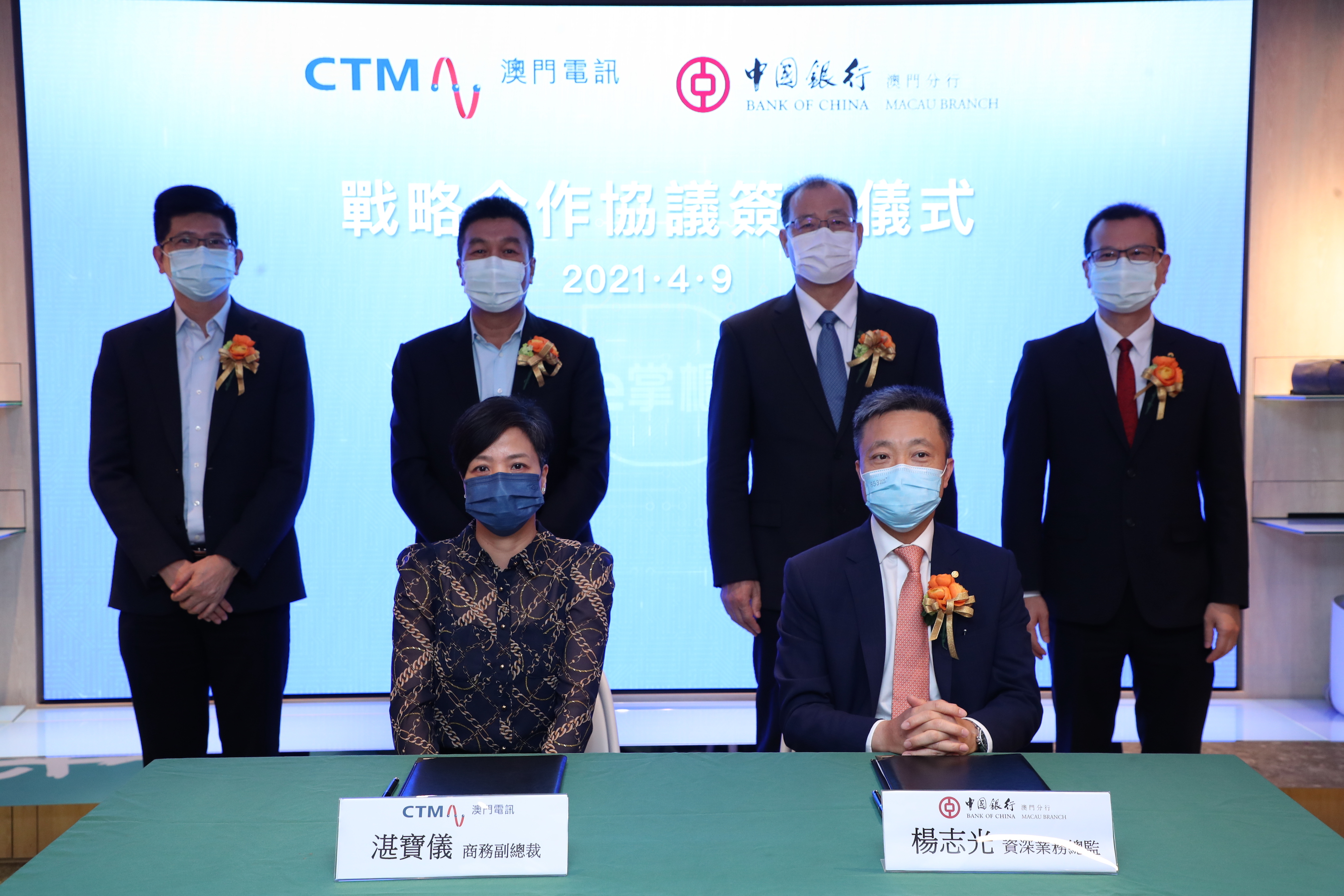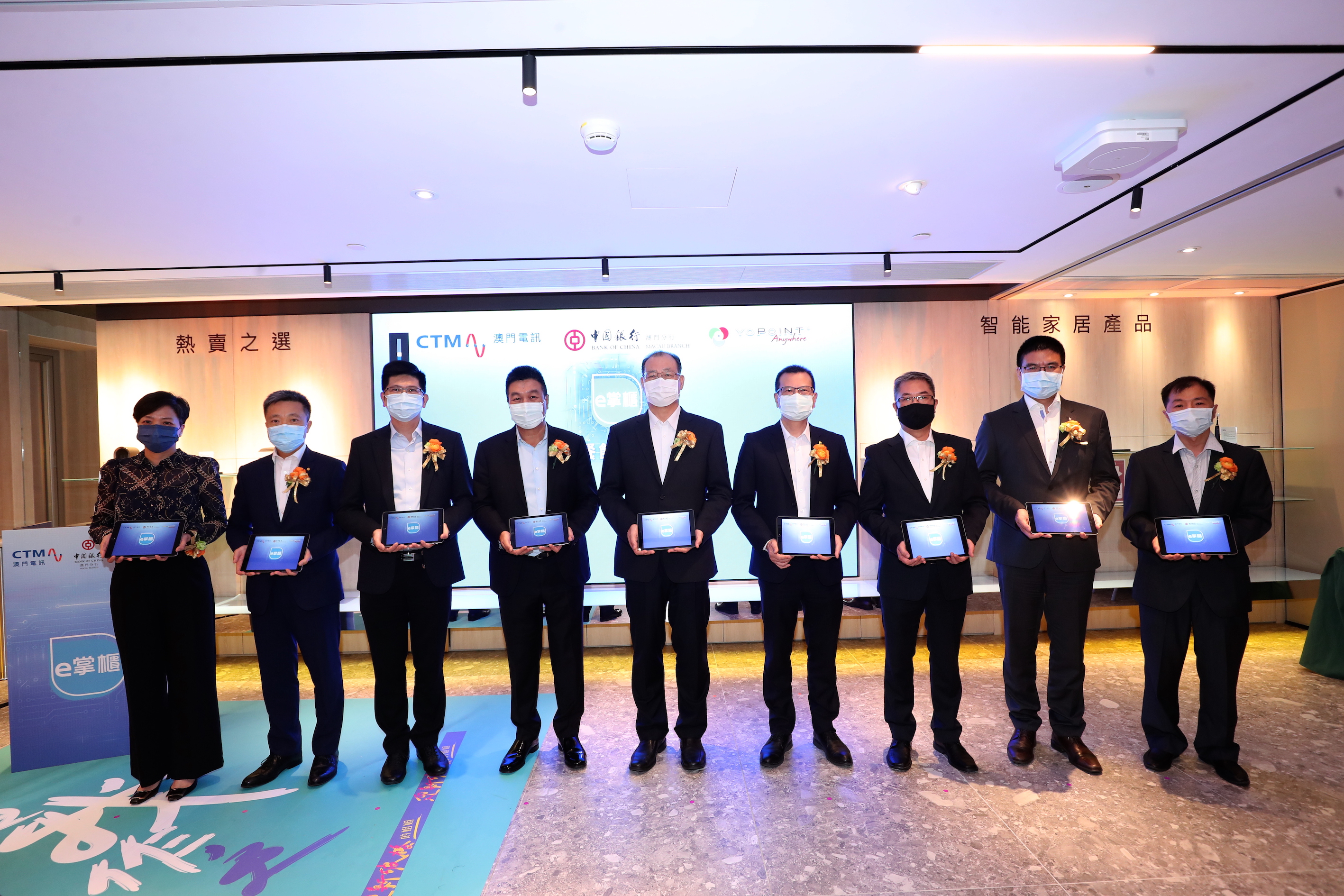 (Macau, 9th April, 2021) With the objective to promote the development of "Digital Macau", CTM actively invests in resources to introduce intelligent application to enhance residents' livelihood, at the same time, proactively establishes close collaborations with different stakeholders to push forward digital transformation in various industries. Today, CTM and Bank of China Macau Branch (BOC) co-signed a Strategic Collaboration Agreement, to further deepen the collaboration of the two parties in the areas of smart finance services and fin-tech.
During the occasion, CTM, BOC and Netel Information & Services Ltd. (Netel), announced the collaborating of an integrated and convenient solutions for the catering industry - ePOS System". Leveraging the strength of wireless network, the "ePOS System" provides online and offline order taking, dine-in and delivery management, e-payment settlement, menu and membership management, marketing management, data storage analysis, as well as system training and after-sales maintenance for SME.
On April 9, the "CTM and BOC Strategic Collaboration Agreement Signing Ceremony" was held at the CTM Original Store. Under the witness of guests of honor, included Mr. Vandy Poon, Chief Executive Officer, CTM, Mr. Li Guang, General Manager, Bank of China Macau Branch and representatives from both parties, Ms. Ebel Cham, Vice President of Commercial, CTM, and Mr. Ieong Chi Kuong, Managing Director of Bank of China Macau Branch co-signed the Strategic Collaboration Agreement. Following the signing ceremony, CTM, BOC and Netel jointly announced the introduction of the "ePOS System"
Ebel Cham, Vice President of Commercial, CTM said, "CTM is committed to promoting the development of "Digital Macau 2.0", aim at introducing more intelligent application for residents. CTM is honor to engage in a strategic partnership with BOC rooted from a long standing collaboration relationship Both parties pursue a mutual objective to extend collaboration on communications and smart retail, together contributing more impetus for the development of New Retail, one-stop e-payment solution and fintech in Macau."
Cham added that through the collaboration between CTM, BOC and Netel, is an integration of the resource advantages for providing an one-stop Smart POS System to the local catering industry and SMEs, which is a proactive initiative to support the MSAR Government in facilitating merchants to seize the opportunities of online economic, as well as accelerating smart transformation within the industry.
Mr. Chan Hio Peng, Deputy General Manager of BOC Macau Branch (BOC) said, BOC is actively cooperating with the Macau S.A.R. Government's policies on the construction of smart city, joins hands with various sectors to promote the integration of fintech with various business areas in order to facilitate the comprehensive development of enterprises. Through the strategic collaboration with CTM, the joined forces between the two parties will unleash the innovative advantages in the fintech area, provide exclusive smart e-payment service solutions to the "ePOS System", further support the digital transformation of SMEs with innovative financial services. Gathering the strength of all parties, as well as the support of comprehensive e-payment channels and financial services, enterprises in retail and catering industry could alleviate the difficulties such as system integration, internal operation and management, creating greater room for development.
Mr. William Ku, CEO of Netel indicated that, Netel Information & Services, ltd. has been established in Macau for 22 years since March 1999, and has been committed to the research development of information technology, actively promoting the development of e-commerce and digital transformation in Macau. Assisting small and medium enterprises to utilize information technology to enhance their competitiveness and reduce operating costs. Maintaining long-term cooperation with Bank of China Macau Branch, and is one of CTM suppliers. The self-developed intelligent omni-channel marketing management system has obtained national invention patents and a number of copyrights. Netel Information & Services, Ltd. has provided products and services to more than 100 dining establishments in Macau and it has been widely praised.
Riding on the resource advantages between CTM, BOC and Netel, customers who apply for the "ePOS System" are entitled to enjoy high-quality customized service and stable wireless network, local high-security standards of data storage and analysis services provided by CTM. With the convenient and diversified aggregated payment system of BOC, the "ePOS system supports WeChat Pay, Alipay, Mpay and Simple Pay, that could cater the e-payment behavior of both residents and tourists. The ePOS System is developed by local information technology enterprise – Netel, which caters the needs of local SMEs. Meanwhile, CTM project team will provide one-stop services including operation training and system maintenance for the applicants.