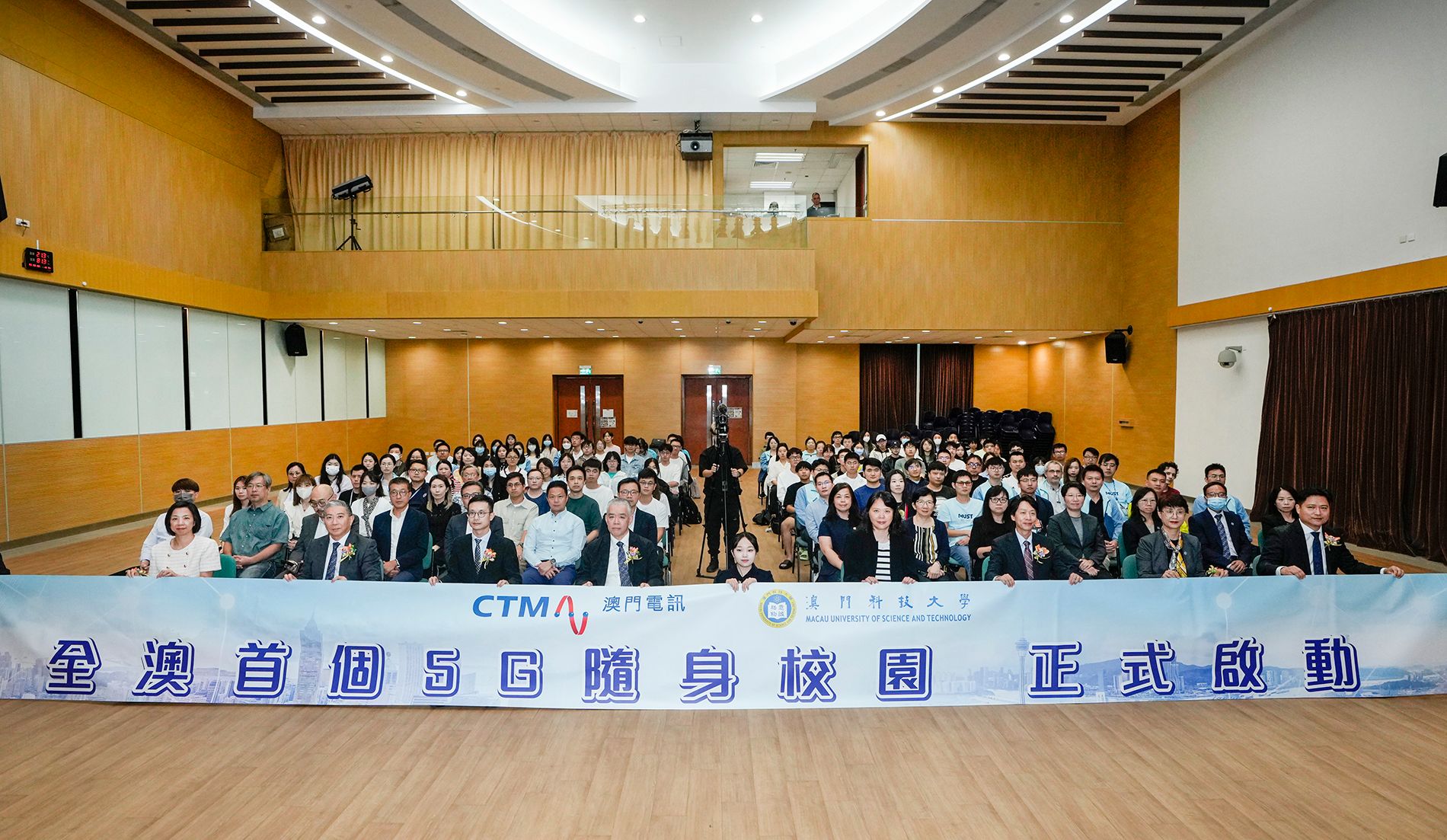 Since taking the lead in launching the 5G service last year, CTM has been actively promoting 5G services and establishing 5G smart application scenarios with stakeholders. To meet the needs for the development of smart campus in Macao, CTM has cooperated with the Macau University of Science and Technology (M.U.S.T.), to establish the first Smart Campus Private Network in Macao that rides on the high security of CTM 5G networks, providing a safe and mobile network environment for scientific research in school.
The Launching Ceremony of "CTM x M.U.S.T. 5G Smart Campus" was held in the afternoon on 8th September at N101 of the Library Building of M.U.S.T., guests who officiated the ceremony included Dr. Tong Ka Lok, Vice-President of M.U.S.T., Ms. Terri Kuan, Finance Vice President of CTM, Mr. Sam Hio Tong, Acting Officer of the Education and Youth Development Bureau, Mr. Adam Ieong, Acting Officer of the Technology Development and Resource Management of CTT, Mr. Kwong Ying Wa, Vice-President of M.U.S.T., Ms. Zhao Xichen, Director of the Information Technology Development Office of M.U.S.T., Ms. Ebel Cham, Commercial Vice-President of CTM, and Mr. Thomas Liu, Director of Business Solution of CTM.
Dr. Tong Ka Lok, Vice-President of M.U.S.T. said that "5G Smart Campus" is not only an innovation project that cooperated with CTM but also a fruitful achievement that combines 5G technology and campus infrastructure, as well as an innovative demonstration for the promotion and adoption of 5G technology in Macao. Since 2017, M.U.S.T. has actively embraced the development of new technologies to launch the WeMust smart campus platform, continuously improving smart constructions that aim to provide a better learning and working environment for students and staff, further upgrading the management and services of the University towards smart transformation. Meanwhile, M.U.S.T. has also continued to increase investment in information infrastructure, established a modern data center, developed the system architecture of large platforms and micro-services, and achieved Wi-Fi 6 network coverage throughout the University, which lays a solid foundation for the construction of the "5G Smart Campus". We look forward to the future development and application of the "5G Smart Campus" and continue to promote the University's smart services to enable better education, teaching and talent training, and contribute to the moderately diversified development of Macao's economy.
Ms. Ebel Cham, Commercial Vice-President of CTM said that since the launch of 5G services, CTM has popularized smart application scenarios under a 5G cloud network integration through its self-built "three networks, four centers and one platform" smart city comprehensive infrastructure. This time we joined hands with M.U.S.T. to establish the first 5G campus in Macao with the 5G private network technologies. Riding on this private network, students and staff from the University could have a safer and more convenient experience in connecting to the campus intranet and applications by CTM 5G network anywhere in Macao. Meanwhile, CTM will waive any 5G data usage of local and 5G 3-destinations plan, when connecting to intranet and campus applications. Ms. Cham added that M.U.S.T. has invested a lot of resources and provided a smart teaching demonstration for Macao, which is a consistent vision and goal of CTM to promote Digital Macao smart city development. It's expected to bring more rich elements to the Macao Smart Campus through further cooperation.
In the future, both parties will continue to deepen cooperation in the field of smart campus and strive to provide more convenient smart application service scenarios for teachers and students.