What is VoLTE?
VoLTE (Voice Over LTE) is the voice calls service transmitted via 4G network, you can enjoy more stable & high-speed voice call! CTM customers can enjoy FREE VoLTE Service by holding a handset that has activated the VoLTE function, to enjoy better call experience!
Advantages of VoLTE
1. Stable connection, better voice quality
2. Fast connection, shorten call waiting time
3. Two-line operation, you can use data to online while making a call
How to use VoLTE?
1. Need a mobile phone that supports VoLTE function
2. Upgrade the phone system to the latest version
3. Activate the phone's VoLTE function
VoLTE iOS Usage Guideline
1. Click " Mobile " in " Settings "
2. Click " Primary "
3. Click " Voice & Data "
4. Activate " VoLTE "

VoLTE Android Usage Guideline
1. Click " SIM cards & mobile networks " in " Settings "
2. Click " CTM "
3. Activate " Use VoLTE"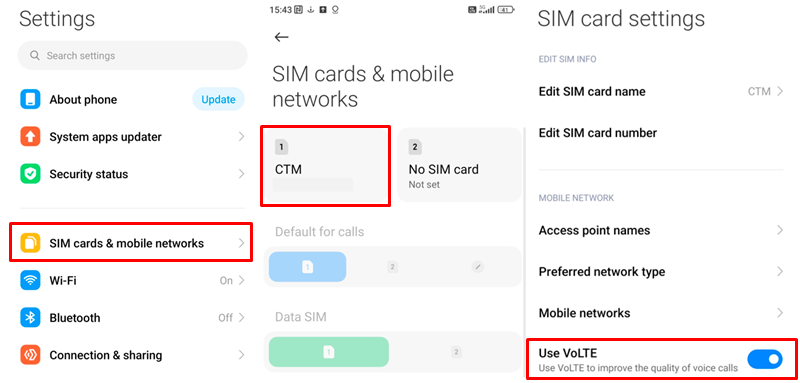 For more Android models' setting and activation procedure, please refer to detail information
Notes:
- Please update your mobile system to the latest version, and refer to activation method above.
- When 5G mobiles are in 5G mode and some 4G mobiles have already activated VoLTE by default, there is no need to manually activate VoLTE. For mobiles that have not been set for automatic activation, you can refer to the above settings and activation methods.
- The activation method here is for your reference. According to different models and software version, the actual screen and procedure may be slightly different.
Handsets support VoLTE:
- iPhone 13 Pro Max

- iPhone 11 Pro Max

- iPhone 7 Plus

- iPhone 13 Pro

- iPhone 11 Pro

- iPhone 7

- iPhone 13 Mini

- iPhone 11

- iPhone 6

- iPhone 13

- iPhone Xs Max

- iPhone 6s

- iPhone SE (2nd Gen)

- iPhone Xs

- iPhone 6 Plus

- iPhone 12 Pro Max

- iPhone X

- iPhone 6s Plus

- iPhone 12 Pro

- iPhone 8 Plus

- iPhone SE

- iPhone 12 Mini

- iPhone 8

- iPhone 12

 

- Huawei Mate 40 Pro

- Huawei Mate 20 Pro

- Huawei Y6P

- Huawei Nova 9

- Huawei Mate 20

- Huawei Y9s

- Huawei Nova 7

- Huawei Mate 20X

- Huawei Y9 Prime (2019)

- Huawei Mate 30 Pro

- Huawei Mate 30

- Huawei Y7 Prime (2018)

- Huawei Mate 30

- Huawei P50 Pro

- Huawei Y9 2019

- Huawei Nova 7 SE (5G)

- Huawei P50 Pocket

- Huawei Y7 Pro 2019

- Huawei Nova 7i

- Huawei P40 Pro+ (5G)

- Huawei Nova 2i

- Huawei P40 Pro (5G)

- Huawei Nova 3i

- Huawei P40

- Huawei Nova 3

- Huawei P30 Pro

- Huawei Nova 4

- Huawei P30

- Huawei Nova 5T

- Huawei P30 Lite(256G)

- Huawei Hornor View 20

- Huawei P30 Lite

- Huawei Mate 10

- Huawei P20 Pro

- Huawei Mate 10 Pro

- Huawei P20

- Huawei Mate 9

- Huawei P20 Lite

- Huawei Mate 9 Pro

 

- Samsung Galaxy S20 FE

- Samsung Galaxy Z Flip 3

- Samsung Galaxy A22 5G

- Samsung Galaxy A42 5G

- Samsung Galaxy Z Flip 5G

- Samsung Galaxy A31

- Samsung Galaxy A12

- Samsung Galaxy Z Flip

- Samsung Galaxy A51

- Samsung Galaxy Z Fold 3

- Samsung Galaxy S22 5G

- Samsung Galaxy A71

- Samsung Galaxy Z Fold 2

- Samsung Galaxy S22+ 5G

- Samsung Galaxy A21s

- Samsung Galaxy Fold

- Samsung Galaxy S22 Ultra 5G

- Samsung Galaxy A20s

- Samsung Galaxy Tab A7 10.4

- Samsung Galaxy S21 Ultra 5G

- Samsung Galaxy A50s

- Samsung Galaxy Tab S8 Ultra 5G

- Samsung Galaxy S21+ 5G

- Samsung Galaxy A20

- Samsung Galaxy Tab S8+ 5G

- Samsung Galaxy S21 5G

- Samsung Galaxy A40s

- Samsung Galaxy Tab S8 5G

- Samsung Galaxy S20 Ultra

- Samsung Galaxy A60

- Samsung Galaxy Tab S7+ 5G

- Samsung Galaxy S20+

- Samsung Galaxy A70

- Samsung Galaxy Tab S7 FE 5G

- Samsung Galaxy S20

- Samsung Galaxy A80

- Samsung Galaxy Tab S7 LTE

- Samsung Galaxy S10e

- Samsung Galaxy A8+

- Samsung Galaxy Note 20 Ultra

- Samsung Galaxy S10

- Samsung Galaxy A8s

- Samsung Galaxy Note 20

- Samsung Galaxy S10+

- Samsung Galaxy A9 (2018)

- Samsung Galaxy Note 10 Lite

- Samsung Galaxy S9

- Samsung Galaxy A7 (2018)

- Samsung Galaxy Note 10

- Samsung Galaxy S9+

- Samsung Galaxy C7

- Samsung Galaxy Note 10+

- Samsung Galaxy S8

- Samsung Galaxy C7 Pro

- Samsung Galaxy Note 9

- Samsung Galaxy S8+

- Samsung Galaxy C9 Pro

- Samsung Galaxy Note 3 LTE

- Samsung Galaxy S7

- Samsung Galaxy Note 4

- Samsung Galaxy S7 edge

- Samsung Galaxy Note 5

- Samsung Galaxy S6

- Samsung Galaxy Note 8

- Samsung Galaxy S6 edge

- Samsung Galaxy S6 edge+

- Samsung Galaxy S5

- Samsung Galaxy A52 5G

- Samsung Galaxy A32 5G

 

- Sony Xperia 5 III

- Sony Xperia XZ Premium

- Sony Xperia X Compact

- Sony Xperia 5 II

- Sony Xperia XZ1

- Sony Xperia X Performance

- Sony Xperia 10 III

- Sony Xperia XZ1 Compact

- Sony Xperia Z3

- Sony Xperia 10 II

- Sony Xperia XZ3

- Sony Xperia Z3+

- Sony Xperia 5

- Sony Xperia XZ2

- Sony Xperia Z5

- Sony Xperia Pro I

- Sony Xperia XZ2 Compact

- Sony Xperia Z5 Compact

- Sony Xperia 1 III

- Sony Xperia Z5 Premium

- Sony Xperia 1 II

- Sony Xperia 10

- Sony Xperia 1

- Sony Xperia 10 Plus

- Sony Xperia X

- Sony Xperia XZ

- Sony Xperia XZs

 

- Vivo X23

- Vivo X27

- Vivo X70 Pro

- Vivo X70

- Vivo Y97

- Vivo Y93

 

- Redmi Note 10

- Redmi 7

 

- Redmi Note 9T

- Redmi 7A

- Redmi Note 7

- Redmi 9A

- Redmi Note 6A

 

- Xiaomi Mi 11T Pro 5G

- Xiaomi Mi 11T 5G

- Xiaomi Mi 11 Lite 5G

- Xiaomi Mi 11i 5G

- Xiaomi Mi 11

- Xiaomi Mi 11 Ultra 5G

- Xiaomi Mi 10T Pro

- Xiaomi Mi 10T 5G

- Xiaomi Mi 10T Lite

- Xiaomi Mi 12 5G

- Xiaomi Mi 12X 5G

- Xiaomi Mi 12 Pro 5G

 

 

 

- ASUS ZenFone 8 Flip

- ASUS ROG Phone 5s Pro

- ASUS ROG Phone III

- ASUS ZenFone 8

- ASUS ROG Phone 5s

- ASUS ROG Phone II

- ASUS ZenFone 7

- ASUS ROG Phone 5

 

- HTC U12+

- HTC Desire 12+

- HTC U11+

- HTC Desire 12+

 

- LG G6

- LG K11

- LG G6+

- LG V30+

- LG G7+

- LG V40

- LG G7 Fit

- LG Q6+

 

- Nokia 9

- Nokia 8

- Nokia 8.3 5G

- Nokia 7.2

- Nokia 7.1

- Nokia 6.1

- Nokia 7 Plus

- Nokia 8 Sirocco

- Nokia 2.3

 

- XIAOTIANCAI Z7 SMARTWATCH