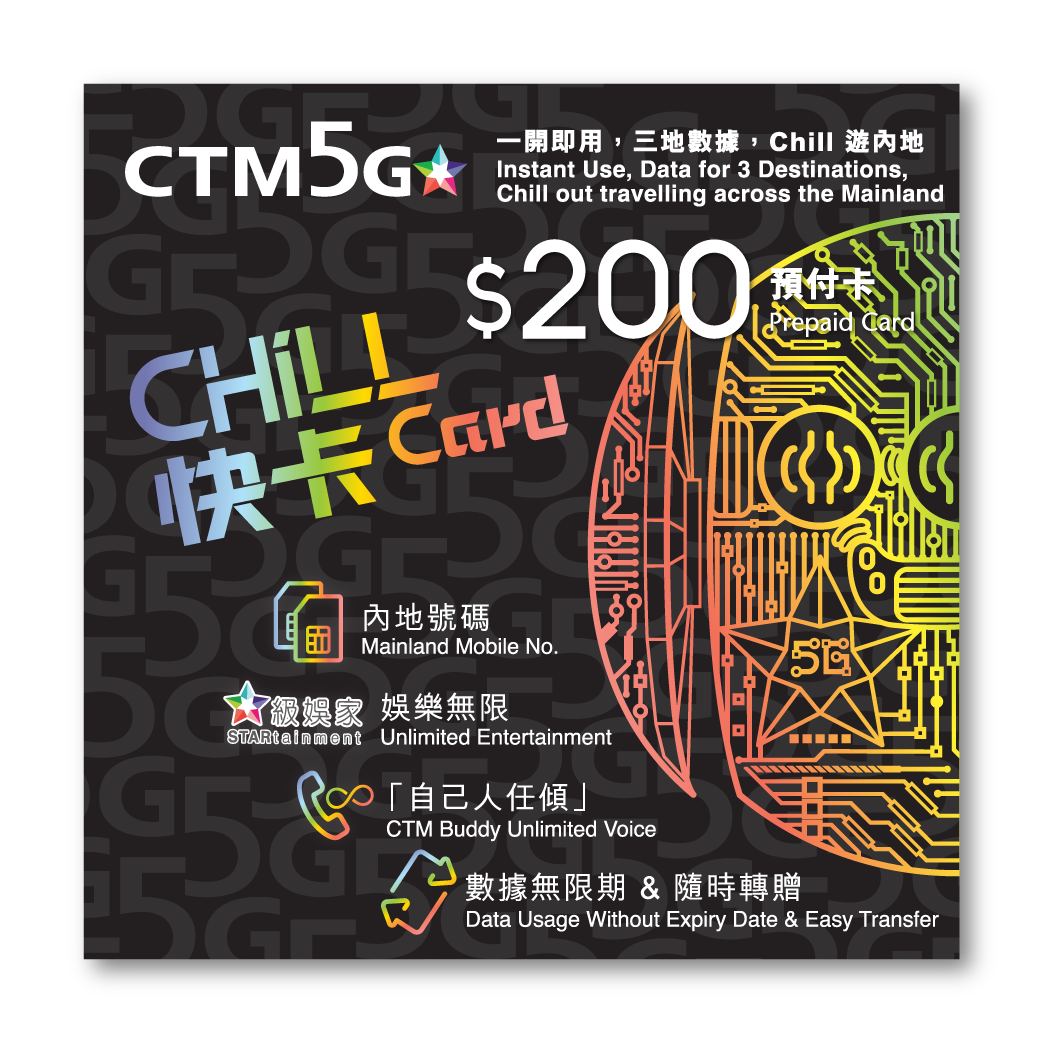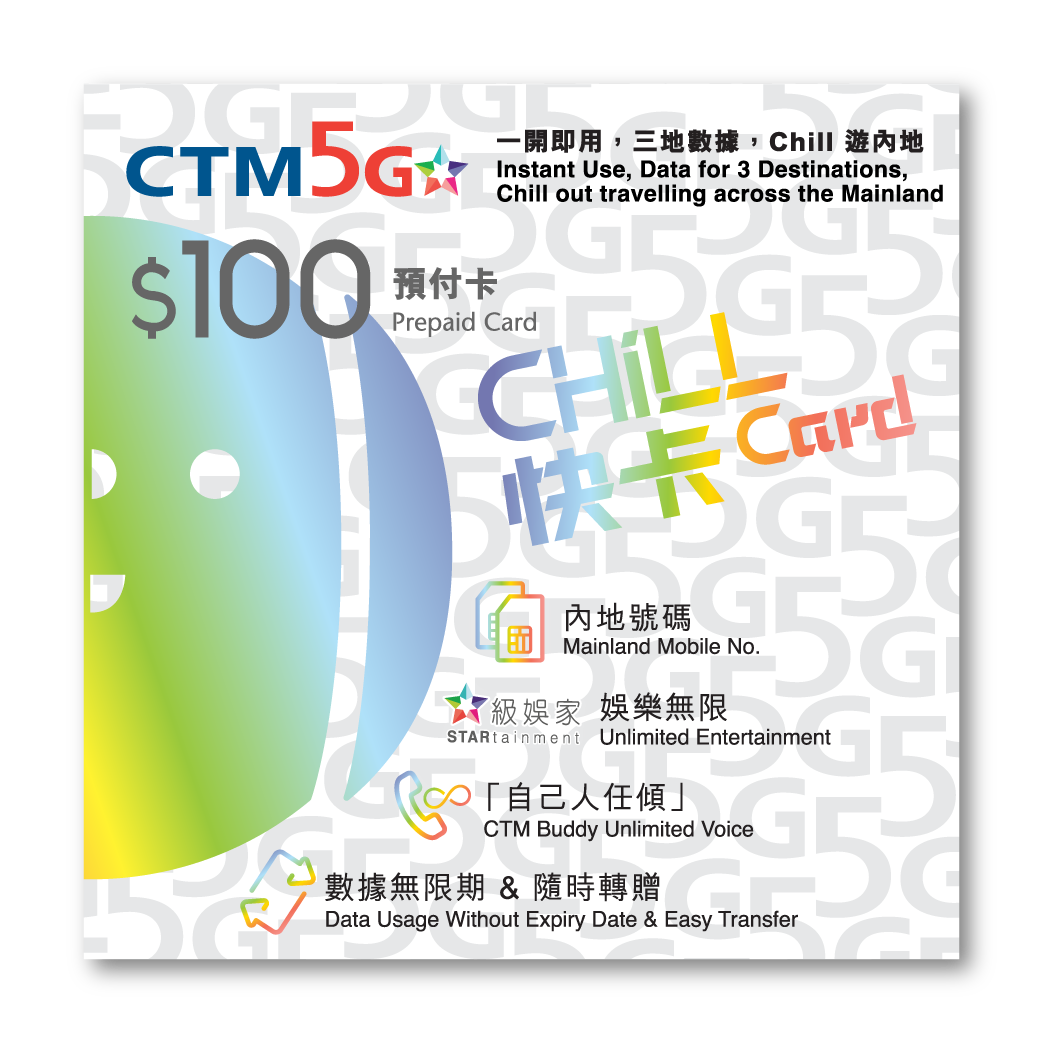 Instant Use, Data for 3 Destinations, Chill out travelling across the Mainland

Service Highlights:
- Customer can enjoy an extra 5GB Data Usage without Expiry Date Destinations upon prepaid card activation.
- The data can be used in 3 Destinations ((Mainland China, HK, Macau), enjoy the advantages of dual network
- Auto activates the "CTM Buddy" unlimited voice ($10) and unlimited CTM Wi-Fi, allows you to have seamless communication with your relatives and friends at any time.
- FREE Caller's Line Identification Service
- "CTM Bonus Points" Rewards
- Exclusive Valid for 180 days
  "CTM Buddy" Unlimited Voice Call

Offer Service Charge (MOP)
$10 / 30 Days
Original Service Charge (Mop)
$20 / 30 Days
Local Voice Airtime (Minutes)
Unlimited
Local CTM Wi-Fi Usage

Unlimited
Other Services:
- Data Usage Without Expiry Date Plan for 3 Destinations, flexible and convenient
- Compatible with Mainland China Mobile No. for travelling across the Mainland. Calls made and SMS sent between the 2 Destinations are charged as local rate
- Data usage without expiry date & easy transfer
- Enjoy immersive infinity entertainment
CTM Self-Service:
You can reload application service and enquire usage, etc. for your Prepaid Card simply in one step via CTM Buddy app and CTM WeChat OA! Follow NOW!


Residual Balance Enquiry :
Check your subscribed plan and remaining free usage, expiry date, and residual balance and bonus items: dial #321# and use CTM Self-Service.
 Basic Charges (MOP)

Voice Calls
$0.4 / min.
Local Video Calls
$0.4 / min.
Incoming SMS
FREE
Send SMS from Macau to Local Mobile No.
$0.25 / SMS
Send SMS from Macau to Overseas Mobile No.
$1 / SMS
Incoming MMS
FREE
Send MMS from Macau to Local Mobile No.
$0.4 / MMS
Send MMS from Macau to Overseas Mobile No.
$3 / MMS
Important Notes
- Offer valid until 31 / 12 / 2022.
- Base on the regulations, starting from 1 / 11 / 2021, each individual customer can register up to 10 pcs. prepaid cards and each customer (excluding public entities) can register up to 25 pcs. prepaid cards. If the number of registrations exceed, registration will be barred. Customers must present their original ID Card or valid Passport for registration upon purchasing the CTM Prepaid Card. Customers are responsible and liable for the correct and lawful use of their CTM Prepaid Card, and the customer shall be solely responsible for any liability arising therefrom.
- After the prepaid card is activated, it will automatically apply for the "CTM Buddy" Unlimited Voice ($10) with validity period of 30 days, the related service charge will be deducted and renewed automatically from the prepaid card balance for every 30 days.
- "CTM Buddy" Unlimited Voice refers to CTM Mobile Service postpaid / prepaid customers of local voice calls that are made & sent between CTM Mobile Service customers, and with Unlimited CTM Wi-Fi usage.
- The receiving of SMS alert / SMS notification / SMS confirmation may delay due to network condition. The content of the SMS is for reference only, in case there is any discrepancy, the latest records of CTM shall prevail.
- As stipulated by the Macau Government, customers must present their original ID Card or valid Passport for registration upon purchasing the CTM Prepaid Card. Customers are responsible and liable for the correct and lawful use of their CTM Prepaid Card, and the customer shall be solely responsible for any liability arising therefrom.
- An SMS alert will be sent to customers when the residual balance of the CTM Prepaid Card is less than $30 or 1 day before the balance expiry date.
- Customer need to purchase a new Prepaid Card if they wish to change the card type, and the residual balance and free usage of the previous Prepaid Card will not be transferred or credited to the new Prepaid Card.
- The Mobile No. is randomly generated by the system and cannot be changed by customers. CTM Prepaid Cards do not support collect call service.
- Lost or stolen cards must be reported immediately to CTM No. 1 Hotline 1000 for immediate cancellation.
- If the CTM Prepaid Card is lost or damage, expires or becomes invalid for any reason, the card will not be replaced, the residual balance will not be refunded or transferred and the mobile number will not be retained by customer.
- The balance and the remaining usage in the Prepaid Card will not be returned after the Prepaid Card expired.
- Customers can reload the card with a maximum value of $50,000.
- This offer and latest prices are subject to change without prior notice. CTM reserves the right to change the approved tariff price, and customers will be informed through corresponding channels.
- Customers acknowledge, understand and expressly agree in accordance with the CTM Privacy Policy.
- For more details about CTM Prepaid Card services, please refer to the "Prepaid Card Important Notes"
- Based on CTM "Acceptable Use Policy (AUP) " and the "Provision of Mobile Service".
- All prices are in MOP.